Mama Moon Candles - Hand poured natural vegan candles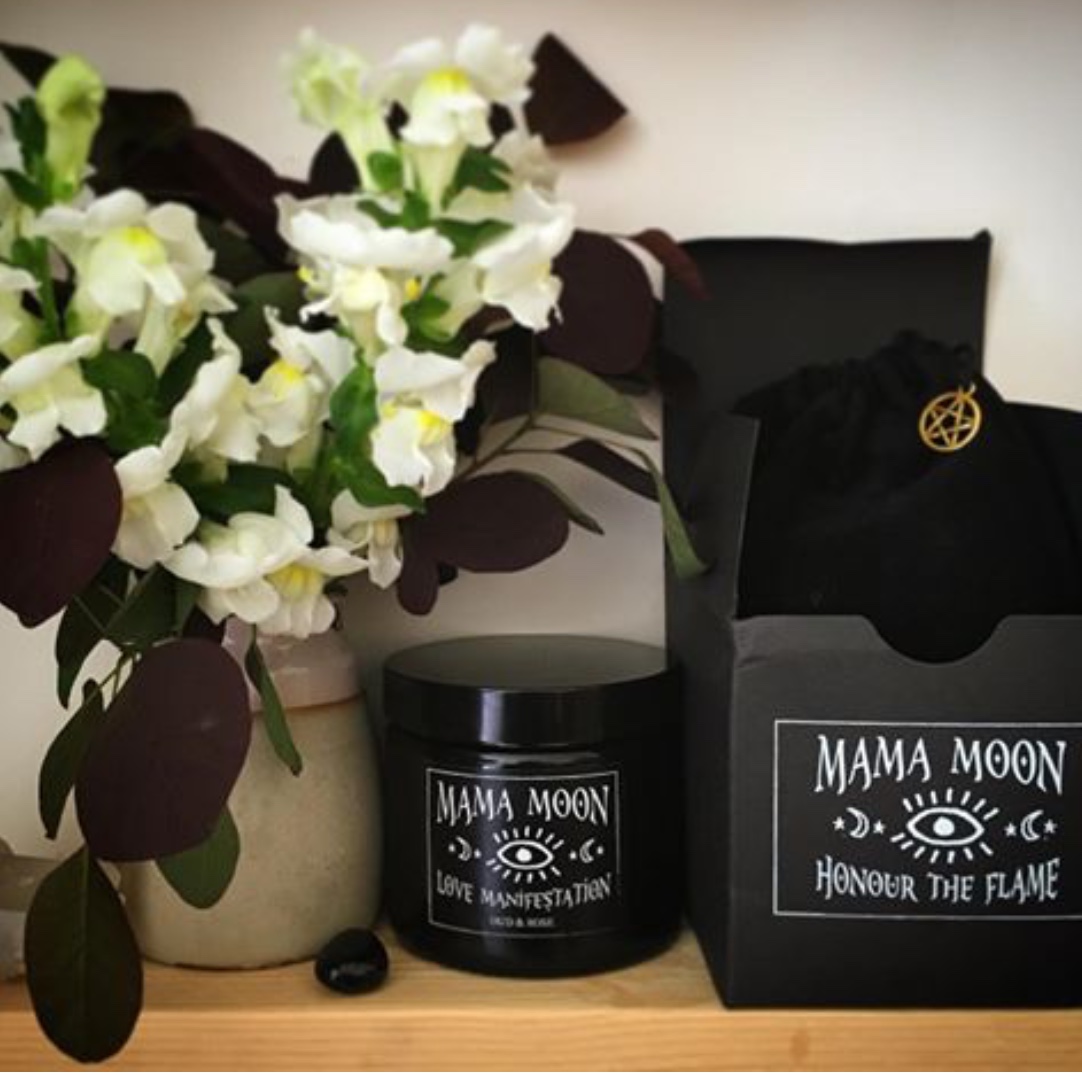 Mama Moon Candles - Hand poured natural vegan candles
We have to start by saying these candles are beautifully crafted, you will not be sniffing the air wondering where the scent is…just lighting them for a small amount of time has the whole room buzzing, they are also huge and last a long time, these are the main reasons why we chose these candles for you all.
The Mama Moon candle maker herself, is full of magic too, she's even written an amazing book on it!
She hand pours these large soy and plant wax candles, blending them with oils that can help manifest what you desire. She uses scent magic to influence our moods and environments, helping us to achieve or clear spaces, make time and set the scene for your moon rituals and even call in some love!
She Truly "honours the flame" and weaves her amazing spells and love into all that she makes.
The candles have an amazing 50 hour burn time and are 100% vegan, they are made with natural essential oils that are high quality + free from parabens and nasty chemicals (like most cheaper candles)
They come in a special gift box with a gorgeous black velvet drawstring bag, which makes a lovely keep sake and has a pretty charm on. They even have little words of wisdom on their lids and make a really special gift for yourself or others.
We are struggling to not buy them all at once and opting to use one at a time, it's honestly lasting ages though! We are so excited to be offering these candles, they really are so special and so well made.
We currently have 4 scents in stock.
MOON RITUAL — Sandalwood — Calming and connecting, this Moon Ritual candle blended with spiritually powerful sandalwood helps prepare the mind for any ritual and helps promote a higher level of consciousness. Light it before you start your Moon Ritual or if you want to bless your environment and home. It's aroma is so soothing though, so it can be used anytime you need to relax and bring peace into your life.
SPIRITUAL BLEACH — Sage, Rosemary + Lemon — Sage is known for its space clearing properties and use in ridding yourself of unwanted energy and vibes. Rosemary protects and lemon purifies. This one is perfect for ridding yourself of bad juju and making your space more pure and sacred.
DEVINE GUIDANCE —Tobacco + Oak — Sacred to Native American tribes, tobacco has been used as an offering to the sprits for centuries. It connects us to Devine energies and helps us call upon them for guidance. It's scent helps us with confidence and communication issues. Oak tunes us into nature, it's also believed to bring luck, money and protection.
LOVE MANIFESTATION — Oud + Rose — Oud is referred to as liquid gold, it's believed to draw a lover close to you, wether they are a new lover or an old love. It is a rich and hypnotic scent and paired with the powerful rose scent can help attract love and inspiration and luck into your life. This candle is lovely for sitting with and practising self care especially around the heart. Your room will smell like a deep English country garden when you Light this…it's so heady and rich.