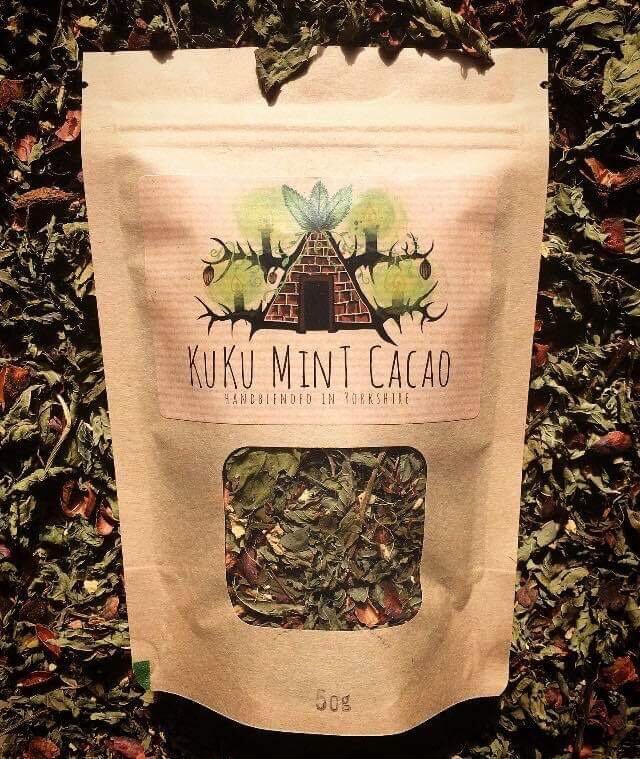 KuKu Mint Cacao
NEW - Our delicious "KuKu Mint Cacao" Tea.
2,500 years ago, cacao was cultivated by Mayas, it was called Kuku in the Mayan language which means "Above Sacred".
Cacao, aka "the drink of the gods" is bursting with endless health benefits and the cacao husks in this blend have been carefully wild harvested, making them extra special.
Tregothan grown chocolate mint leaves, sweet star anise, energy boosting rooibos and warming ginger root chunks have been combined with the cacao husks to create a chocolatey but refreshing mint tea that opens the airwaves, re-energise + awakens the mind.
My favourite flavour ice cream has always been Mint choc chip and I LOVE mint tea, so this combination just had to happen!
Wanting to keep this blend healthy and unique, we have searched the UK far and wide and rustled up some very special ingredients for this one. We carefully sourced our cacao husks from an amazing local Cacao bar creator "Made with Ananda", who sources his beans from the most sacred places and through the most sustainable Cacao farmers who care about the environment.
These Cacao bean husks are from wild harvested raw belize beans, they would have been an unused part of the bean in the production of cacao bars, meaning we are repurposing it. (We also sell made with ananda chocolate bars and ceremonial 100% drinking chocolate, so you can enjoy every part of this magic bean.)
This blend has been mixed with Cornwall's Tregothan Estate grown extra minty Chocolate mint leaves (Ever since I studied here and worked with their beautiful high quality mint, I've been desperate to use it in one of our teas).
We added some Star anise for a sweet twist, a pinch of Rooibos for energy and warming real Ginger root chunks, who doesn't like a spicy choco finish!.
This chocolatey Minty tea really helps to clear our minds and gets us focused for the day ahead, all we ask is that you don't burn the delicate mint leaves, a drop of cold water first or boil the kettle and allow to cool a bit or if you have a temperature kettle 80° is the ultimate temperature.
We like to use it for settling upset tummies and for drinking after a big meal, it has also been child approved. Ours absolutely love it.
ingredients - organic wild harvested Cacao husks, organic Tregothnan chocolate mint, organic ginger root and organic star anise.
Please check with your doctor if you are on medication, breastfeeding, pregnant or unwell before drinking any herbal tea.